Valentine's Special — Buy One Chakra Rox Selenite Plate/Bowl Get a 6 Inch Heart Selenite Plate Half Off
Valentine's Special — Buy One Chakra Rox Selenite Plate/Bowl Get a 6 Inch Heart Selenite Plate Half Off
Don't miss out on our Valentine Special! BUY ONE of any of selected Reiki-Charged Selenite Plates (6 Inch Round or Hexagon) or Bowls (4 Inch or 6 Inch) and GET ONE Heart-Shaped Selenite for HALF OFF.
Get a Reiki Charged Charging Station for yourself and score one for a fellow crystal lover at a fantastic price just in time for Valentine's Day! All are Reiki Charged by a Reiki Master and cut from genuine Moroccan Selenite.
How to Score the Deal
1) Just go to our Amazon listing for any of the following Chakra Rox Selenite Charging Stations (all rated 4.7 stars and above):
2) Scroll down until you find the "Special Offers and Product Promotions" section of the page. (Doesn't appear on all phones or pads. If this is the case, try again using a computer to order instead). See photo below for reference.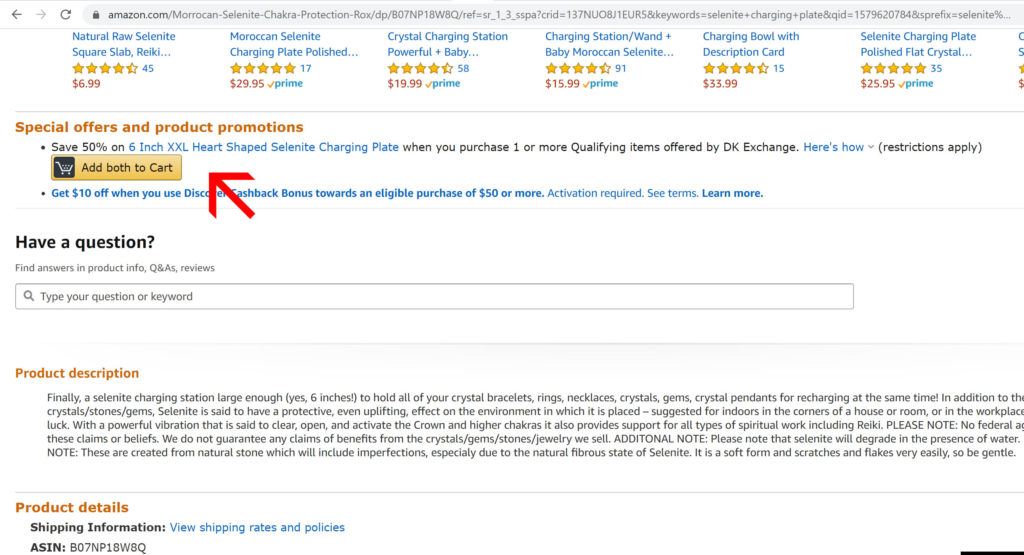 3) Click the "Add Both to Cart" button. Once ready to purchase, click through the purchase process on Amazon as you normally would. You should see the discount appear when you reach "Checkout."
Promotion Ends February 17, 2020 while supplies last.