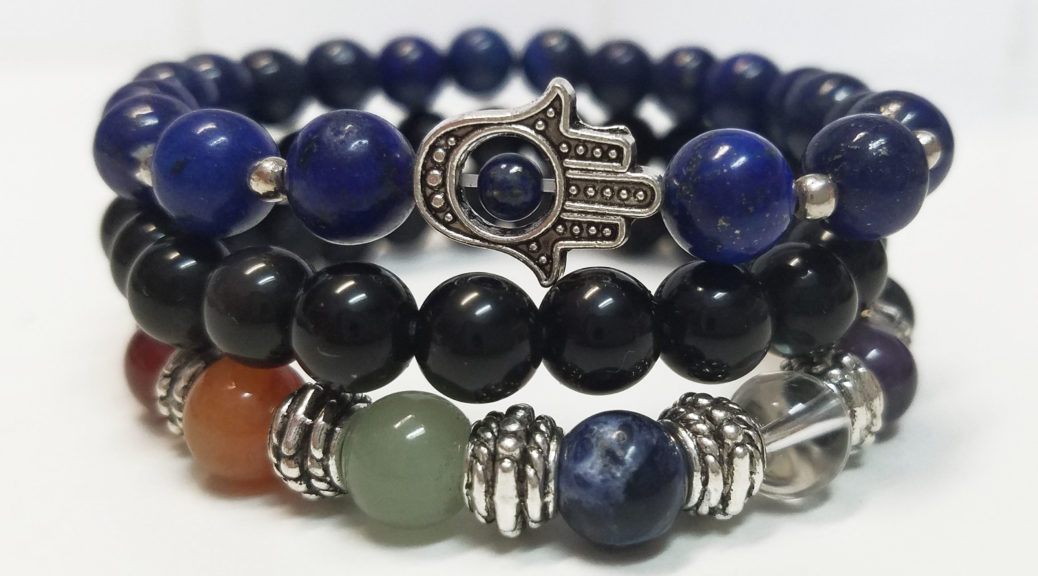 Natural Stone Clarity and Creativity Bracelet Set
Natural Stone Clarity and Creativity Bracelet Set
Looking for clarity or creativity? Wish you could spark your intuition? This bracelet set is designed to help. Lapis Lazuli is said to support or enhance the Third Eye and Throat Chakras. As part of that, it is associated with mental clarity, wisdom, creativity, intuition and connections with the spiritual realm. To further support your balance, we have included with our Chakra Balancing Diffuser Bracelet (great for all chakras) .
Find clarity, inspiration, creativity and more with this natural stone bracelet set featuring a lapis lazuli bracelet, an overall chakra balancing bracelet (including lava stones for lava bead diffusing), and a black obsidian bracelet. All 3 stretch bracelets include 8mm natural stone beads, are cleansed, charged and Reiki charged by a Reiki Master.
Lapis Lazuli is said to encourage clarity, spiritual growth, intuition and creativity. Great for problem solving, generating new ideas and intellectual analysis. Popular with writers, journalists, psychologists.
The Chakra balancing bracelet includes natural stones selected to align each chakra – amethyst (crown chakra), clear quartz (third eye chakra), sodalite (throat chakra), aventurine (heart chakra), citrine (solar plexus chakra), carnelian (sacral chakra) , red jasper (root chakra)
Black obsidian is said to be a protective stone, forming a shield against negativity and absorbing negative energies from the environment. Black obsidian is known for its ability to draw out tension and mental stress, allowing space for your confidence to blossom.
Select your favorite essential oil to pair with the diffuser.

Suggested Scent to place on Lava Stones: Lavendar Essential Oil (great for all chakras), Frankincense and Myrrh Essential oil or just Frankinscense (known for enhancing the Third Eye and complimenting Lapis Lazuli.
Suggested Affirmations:
I trust my intuition.
I am wise, inuitive and connected to my higher self.
I listen thoughtfully to my inner wisdom.