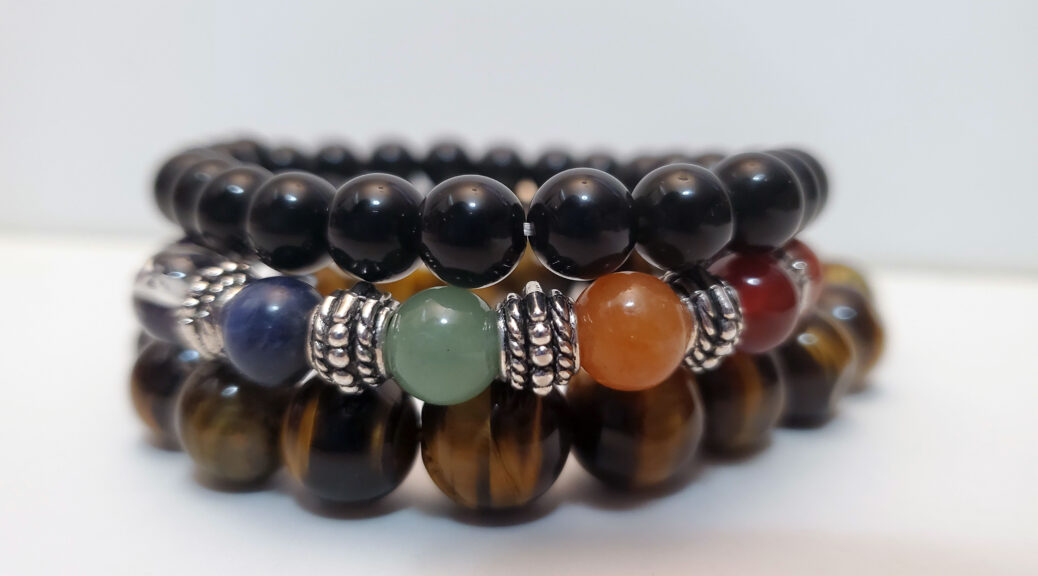 Stone Bracelet Set for Courage, Confidence
Stone Bracelet Set for Courage, Confidence
Support your courageous self in career, education, romance and more with this natural stone bracelet set featuring a tiger's eye bracelet, an overall chakra balancing bracelet (including lava stones for lava bead diffusing), and a black obsidian bracelet. All 3 bracelets include 8mm natural stone beads, are cleansed, charged and Reiki charged by a Reiki Master.
Tiger's Eye is said to encourage one to delve deep within to find true courage and build self esteem. It works in concert with the solar plexus to bring balance, confidence and strength. Great for entrepreneurs, a major career change or just to get you through that speech your are nervous about.
The Chakra balancing bracelet includes natural stones selected to align each chakra – amethyst (crown chakra), clear quartz (third eye chakra), sodalite (throat chakra), aventurine (heart chakra), citrine (solar plexus chakra), carnelian (sacral chakra) , red jasper (root chakra)
Black obsidian is said to be a protective stone, forming a shield against negativity and absorbing negative energies from the environment. Black obsidian is known for its ability to draw out tension and mental stress, allowing space for your confidence to blossom.