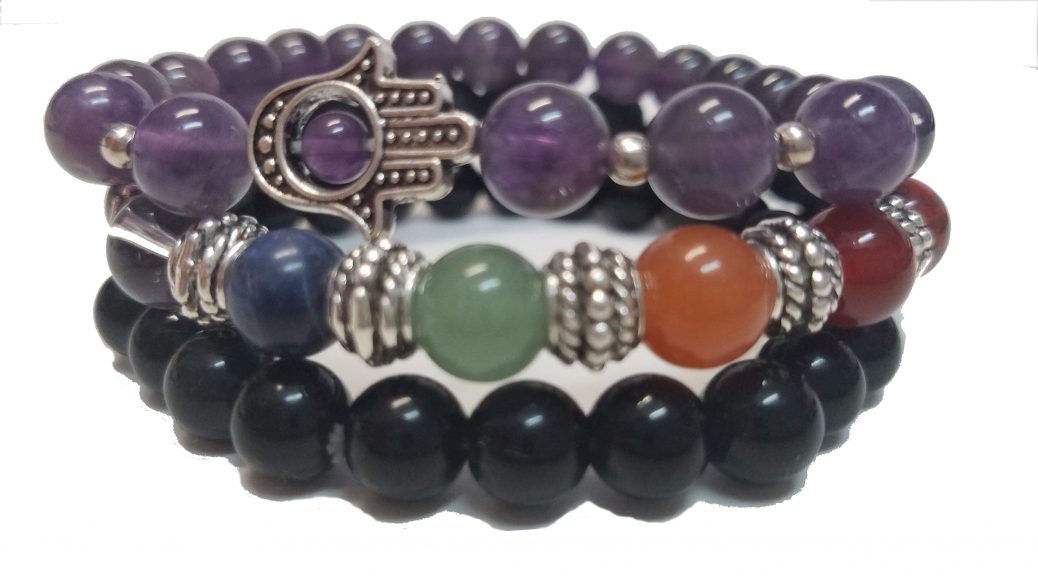 Natural Stone Bracelet Set for Well Being
Natural Stone Bracelet Set for Well Being
Support your overall well being, healing and more with this natural stone bracelet set featuring an Amethyst bracelet, an overall chakra balancing bracelet (including lava stones for lava bead diffusing), and a black obsidian bracelet. All 3 bracelets include 8mm natural stone beads, are cleansed, charged and Reiki charged by a Reiki Master.
If you can only go with one crystal, Amethyst should be a top choice. It is said that Amethyst works to balance all the chakras. It's also a healer, assists with reducing anxiety, can provide relaxation and a better night's sleep, and offers general healilng (emotionally, physically and spiritually) when placed on or near the body.
The Chakra balancing bracelet includes natural stones selected to align each chakra – amethyst (crown chakra), clear quartz (third eye chakra), sodalite (throat chakra), aventurine (heart chakra), citrine (solar plexus chakra), carnelian (sacral chakra) , red jasper (root chakra)
Black obsidian is said to be a protective stone, forming a shield against negativity and absorbing negative energies from the environment. Black obsidian is known for its ability to draw out tension and mental stress, allowing space for your confidence to blossom.